Call 817-275-1511: Monday-Friday
Phone Lines open at 8:30 AM
At Arlington Charities, we help to stabilize families, individuals and the homeless by providing immediate, temporary assistance during their most critical time of need. Everyone, at every stage in life, deserves their basic needs to be met. No one should go hungry.
​
Sometimes, all it takes is a helping hand.
The challenge facing our community

&
What we are doing to help.
dollars worth of services provided in 2019.
on our general operating expenses.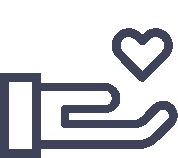 "The purpose of human life is to serve, and to show compassion and the will to help others. "